Our high-quality Roto NT Tilt&Turn hardware system is suitable for the most different window shapes made of the frame materials timber, PVC and aluminium with 16 mm hardware groove.
All over the world, it sets standards as a technology and market leader, and fulfils the most stringent demands in terms of security, ease of use, durability and design.
All components from the Roto NT modular system are perfectly tailored to each other and offer almost unlimited combination possibilities, thus enabling customers' various requirements to be met as flexibly as possible.
Suitable for
Turn-Only / Tilt&Turn windows with timber, PVC and aluminium frames
The following sash weights  with visible Roto NT hinge side:
– up to 150kg with timber profiles
– up to 130kg with PVC profiles
– up to 100kg with aluminium profiles
Sash weights up to 150 kg with the concealed hinge side Roto NT Designo
Sash weights up to 300 kg with Roto NT PowerHinge, the hinge side for particularly large and heavy timber windows
The concept of closing Roto NT basic equipment consists of a simple song with closings and closing middle blockers safety:
– standard blockers can be replaced simply and quickly with safety lock, having the same length
 – blockers are interchangeable without changing the central closure
 – All of the parts combine with the same closing blockers
 – All blockers have the same shaft of the screw, so no additional drilling required and no visible screws holes
The sash edge hardware is pre-equipped with locking cap mushroom; it enters the camp Batara related. In this way fewer additional components are required.
– Roto NT is tested and certified according to DIN 18104-2 as hardware resistance to burglary
– Roto NT is tested and certified according to DIN EN 1627-1630 for PVC profiles to RC3 and wood profiles to RC2
– No safety components visible compared to previous products
Closing these types of parts are available where the closing piece head with blockers safety fungus gives a very safe:
– closing piece E: pressure adjustable +/- 0.8 mm
– closing track P: safety mushroom head pressure adjustable +/- 0.8 mm
– closing song V: safety mushroom head height-adjustable +/- 0.8 mm +/- 0.8 mm and adjustable pressure
Racing on a large 36 mm (depth flush optimal) locking element can enter secure lock and high production tolerances.
In addition minimizes closing level, material abrasion between stulp profile and closing furniture.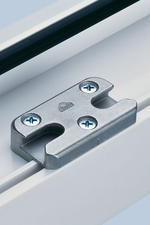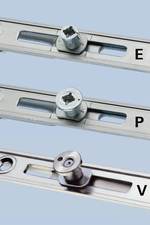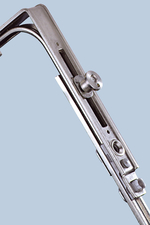 Blocator de siguranta              Inchideri E/P/V                              Inchidere V in coltar
SAFETY
For use in children's rooms or in public places (mainly kindergartens and schools) will present our hardware for windows TiltFirst technology – intelligent safety mechanism for windows (for children) with handle "Batara before opening". It guarantees safety and at the same time allow for safe ventilation in position Batara.
– sash window will be locked in position Batara, the horizontal positioning of the handle
– The handle lock cylinder, located in a horizontal position, prevents move the window from the front oscillating Batara position to open the window wide
– The handle can be moved up only by using the key
– To change the destination window safety system can be removed relatively easily by changing hardware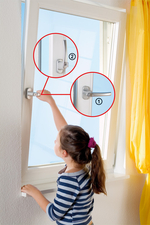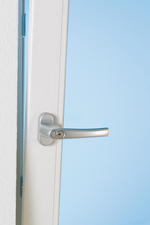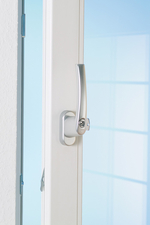 Ferestre de siguranta pentru copii                                  (1) Aerisire prin batare